Discovery set ! youtube reviews.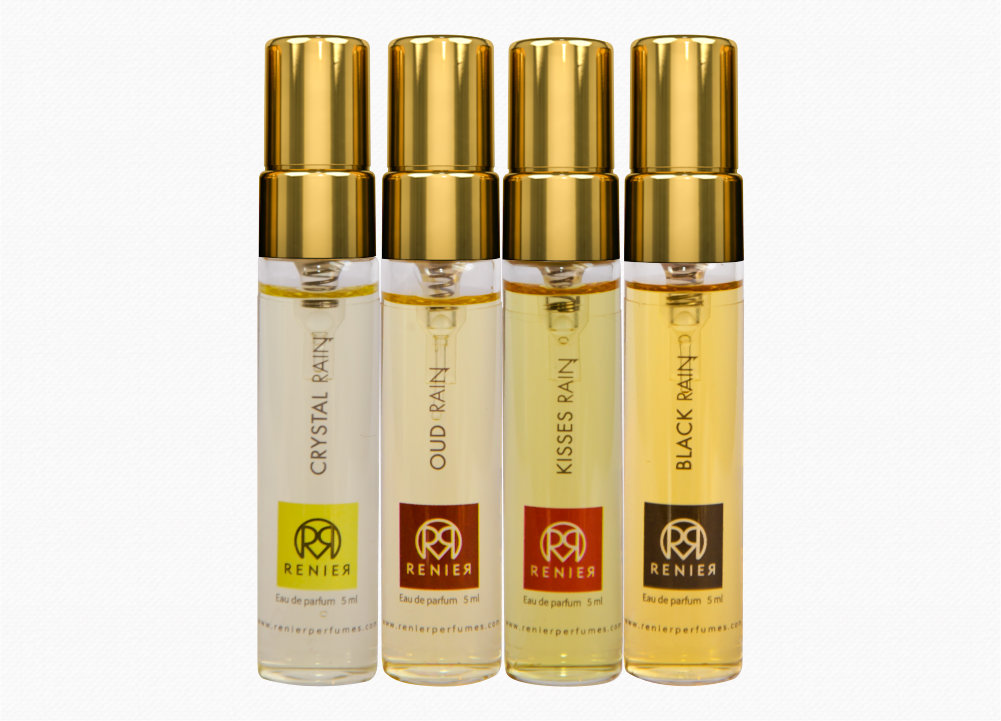 The Discovery set of Renier Perfumes with the 4 fragrances at the moment! 5 ml of each one, we consider that is a right size for a discovery set. With 5 ml of each perfumes you are able to use them easyly a whole week and even more, and then decide your favorite one!
CRYSTAL RAIN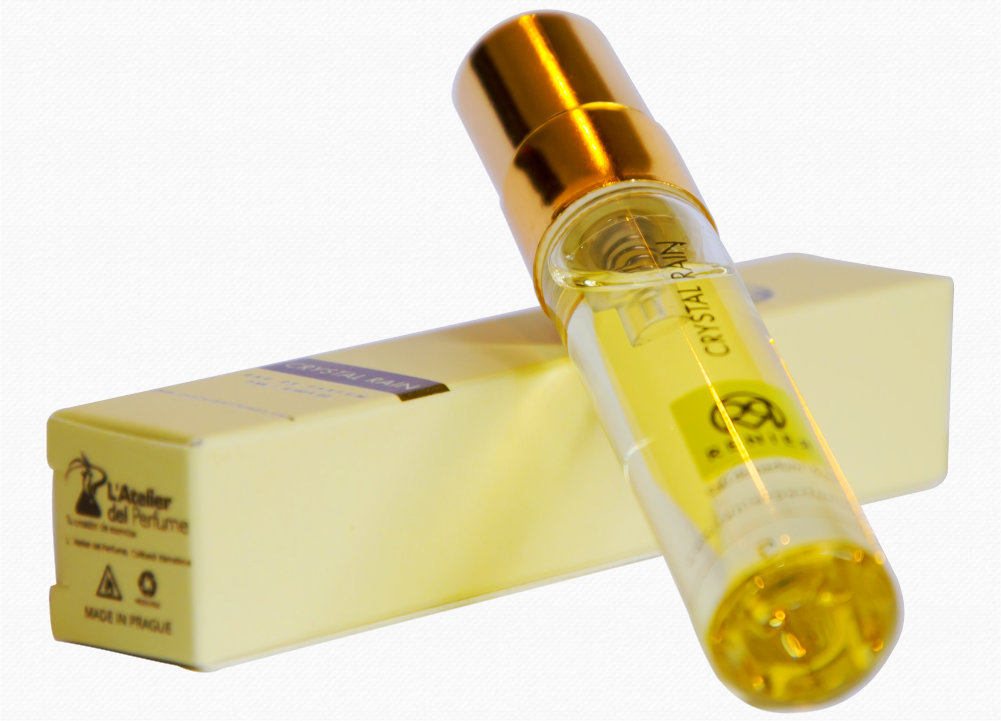 HEAD: Orange blossom, Apple, Bergamot, Thyme

BODY: Cypress, Cedar, Jazmine
BASE: Amber, Leather, Ambergris
Crystal Rain is a luminously fresh fragrance, full of life and energy, crystalline and clean, elegant and with character. It's delicious, authentic and sweet in its fair measure. This marvel has been able to inspire the creation of an oil painting entitled with the same name and concept. This is a fragrance full of energy that renews the desire to live. At the head is where the green apple is mixed with bergamot and thyme while touched by small sparkles of white flowers. This gives it a perfect balance between light and youth.
The woods of cypress and cedar clarified and sweetened by the sensuality of jasmine offer a very beautiful personality. The touch of ambar gives us a generous longevity. It's a magical perfume.
The background of the perfume is an art work in itself because the ambergris is its main protagonist taking care that the leather and amber chords are subtly balanced. Art and elegance in the right measure to consolidate the personality of positive people.
reviews about crystal rain:
OUD RAIN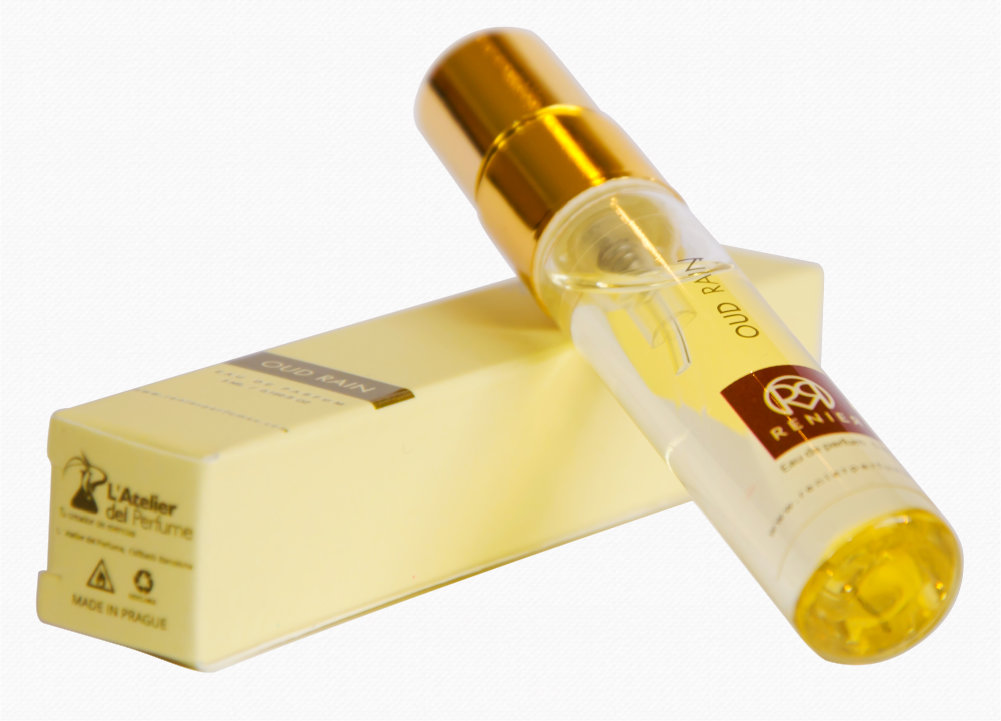 Head: Tangerine, Mango, Pineapple, Plum, Papaya, Cypress

Body: Oud, Sandalwood, Nutmeg , Saffron
Fondo: Oud, Cedarwood, cistus, Animal achords
Oud Rain is a rain of tropical joy wrapped in oud! It's an optimistic and conquering perfume.
A delicious departure of tropical fruits featuring mango and tangerines give a fantastic start to positivism and euphoria, which combine with curiosity and desire to know much more than what is perceptible so far. Cypress next to the resinous part of the mango shell transmit a magical, green, elegant, bitter and captivating touch; making this piece a niche work of art. Oud Rain is completely out of the standard of the wide range of current perfumes dominated by agar wood. A moderate combination of sandalwood, nutmeg combined with natural oud and sparkling touches of saffron creates a dance of exoticism and glamor in the body of the fragrance.
It's a perfect tropical and romantic dinner under the light of the moon in a deep forest with woody aromas, fruits and a rose as a gift. It's in the base notes where the rain comes in combined with slight animalic accords and hints of gray amber that linger on through the duration of the fragrance. It is certainly a special rain, this time dressed in luxury. Oud rain is the perfect combination of optimism and conquest.
reviews about Oud Rain:
KISSES RAIN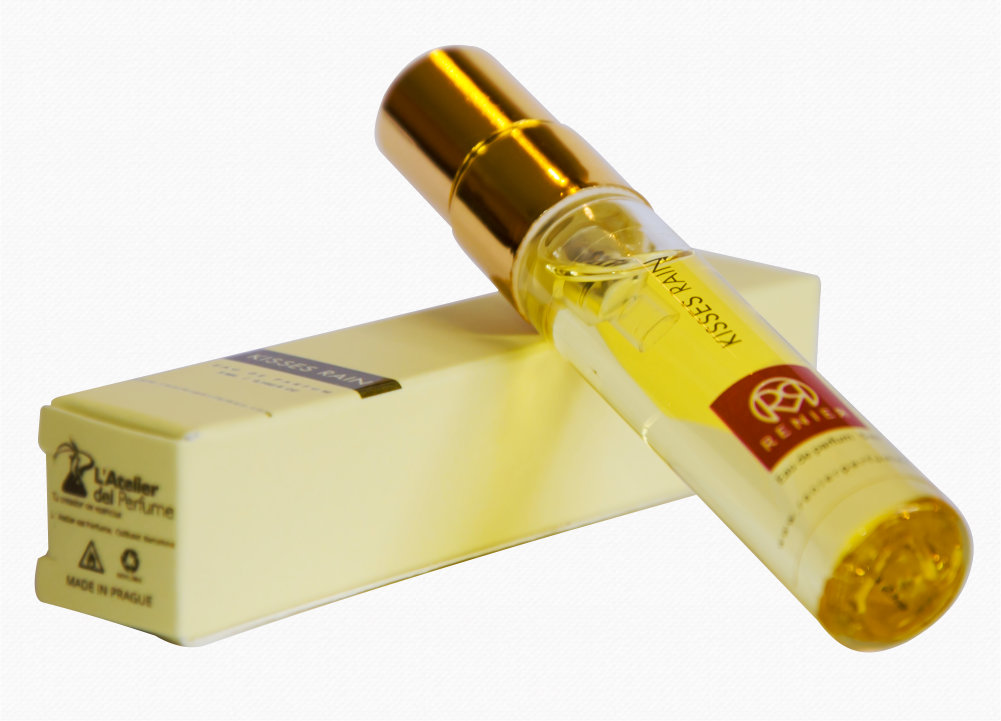 HEAD: Bergamot, Oud, Cardamom, Rose.
BODY: Oud, Almond, atlas cedar wood, coffee, Eliotrope
BASE: Amber, Musk, Patchouli, Vanilla, Balsam of tolu from cuba
Kisses Rain is a sensual and modern fragrance with floral character. It's sophisticated, spicy and strong but all done in good measure without losing it's charm of conquest. The cardamom and rose give a luxurious appearance to the perfume while the accords of oud combine very smoothly with the heliotrope and almond give you the feeling of a creamy, poetic and floral melody.
It is a shower of kisses for a modern love, for people with less conventional tastes and for those who can appreciate detail. The note of coffee brings you seriousness while at the same time memories of a far away, unforgettable and perhaps unreachable love. Unlike most "floral fragrances" this fragrance leaves a subtle, tender and intoxicating imprint by combining the strength of cedar wood of Atlas and luxurious agar wood with floral accords.
Towards the bottom, patchouli, musk and vanilla bring a tender sweetness to the entire composition. Because of the naturalness of its components and the longevity of this fragrance it can be quite addictive.
This is an exhilerating perfume that recalls the most secret loves and the best kept kisses.
reviews about Kisses Rain:
https://www.youtube.com/watch?v=T96V8fTuigc&t=338s
https://www.youtube.com/watch?v=0TPd0wx1v64
https://www.youtube.com/watch?v=JaCSGgJDrec&t=232s
https://www.youtube.com/watch?v=XBScN6vuUTA&t=1s
BLACK RAIN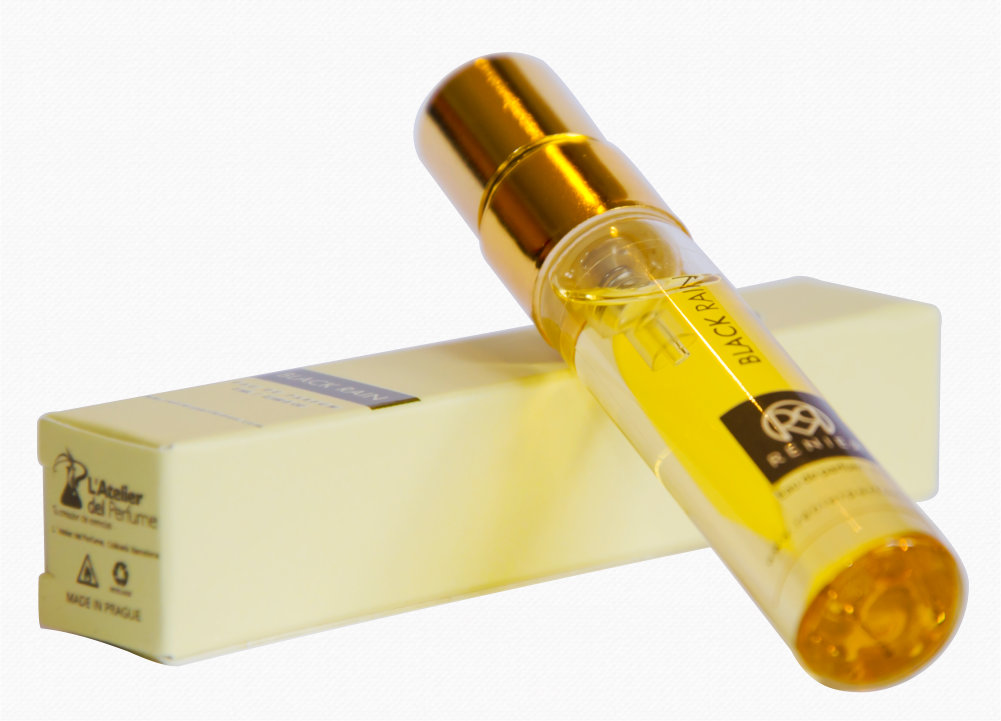 HEAD: Rose, Chamomille.
BODY: Violet, Jazmíne, Leather.
BASE: Pachouli, Musk, orange blossom, Ambergris.
Black Rain is a fragrance for a very select public because it is not a perfume that follows the conventional canons of the market. It is atypical, it is special, different, artistic. The black rain is a work of art that you love or hate but you will always remember. It is a dark and sophisticated rain that fills the person who wear it with mysteries and curiosities.
Black Rain is a very original scent especially because its creation has been inspired by the image of an artwork, an oil painting full of unique sensations. Its floral head with roses, chamomile and leather accords mixed in cold water give the perfect balance to the subtle sweetness of the composition in its authentic first phase. It is very accurate and luxurious. This fragrance reminds the scent of wet earth and skin. A touch of Leather and Jasmíne gives an excellent development during the following hours.
Ambergris (one of the most luxurious materials on the market) manages the mystery in the background. Patchouli and orange blossom gives elegance to Black Rain and make the perfume whisper to us: ... come closer, I am mysterious and Dramatic But Unforgettable.
reviews about Black Rain:
https://www.youtube.com/watch?v=HwoSUgrsPrE&t=71s
https://www.youtube.com/watch?v=kkuYu__xSyA